HOW TO USE
How to use
Make sure that the SD card installed with the game has been inserted into the machine.

Make sure the machine has enough power.

Turn on the switch.
How to install retro games
Copy your own retro game roms into the SD card by USB card reader (ensure fat32 format) remount SD card in and refresh games in "SETTING" menu.
How to Install Trimui Applications
How to install roms into Model S
Multiplayer games
MODELS supports both doubles and multiplayer.In two-person mode, the external USB handle is connected through type-C-OTG wire; in three-person mode, the three-person mode is realized through HUB+ by two game controllers.More features are to be updated with subsequent firmware updates.
FAQ and Additional Resources
For frequently asked questions about your device, simply go to www.trimui.com. Select the product and you will find more resourses on how to operate your product including helpful tips and videos.
Safety guidelines
please follow the safety guidelines below at all times when operating or caring for your device.
be wary of any edges, uneven surfaces, and metal parts, including on accessories and product packaging, to prevent any possible injuryor damage.

avoid storage in high temperatures, such as in a hot vehicle or in direct sunlight.

do not expose the console or any of its supplied parts to rain or other liquids.

do not drop or cause undue impact to the console.

do not modify, repair, or dismantle the product on your own.

do not use any dilutant or volatile liquid to clean the product.Do not use the product in a hazardous location.
Usage
Quick game
PLAY EMULATOR GAMES
Select EMULATOR, Choose the platform you want to play on.Then choose the game you want.
PLAY BUILT-IN GAMES
Select GAME for Built-in games.
Exit game
Save and load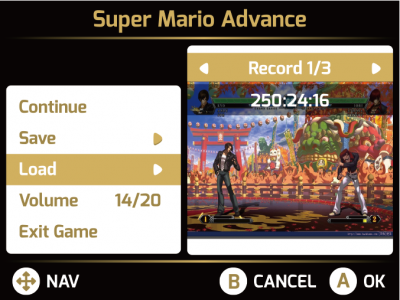 During gaming, press the "MENU" button to bring up the MENU and select "SAVE" and "LOAD" to save and read the progress. Each game can hold up to 10 archives.
Setting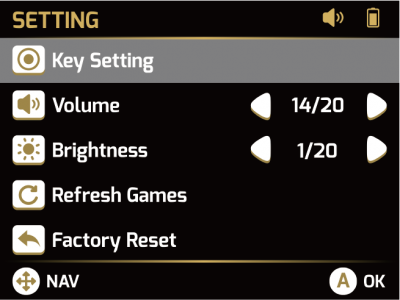 Enter the "SETTING" menu, you can adjust the volume, brightness, BGM volume and Key Map by left and right key, and you can also restore factory settings and update games in this menu.View machine hardware information in the "DEVICE INFO" option.
Add favorites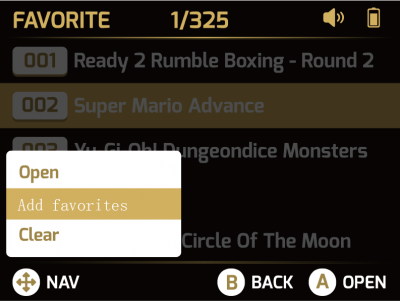 When entering the game list, press the "MENU" button to bring up the MENU and add your favorite games.
Games that have been added are saved in the "FAVORITE" on the main menu, where you can quickly select your favorite games.
Shortcuts
Game process shortcuts: Volume - : SELECT+L Volume + : SELECT+R Brightness - : START + L Brightness + : START + R
Earphone
You can connect the earphone via Type-C, direct type-C interface earphone or 3.5mm earphone via type-C adapter